Ultra compact and flexible solution for 12V nominal systems
The traditional 12V architecture that has been widely implemented and accepted uses single output, low frequency switching converters. As systems evolve and continuously incorporate more features, requiring additional discrete power rails to be added, the traditional model grows dramatically in area and bill of materials. As little as 25% of system power (measured in watts) can occupy more than 60% of the PCB area and components, severely limiting the ability of the system to scale with growing demands.
The Empower scalable 12V solution addresses this growing need without the added burden of PCB area, bill of material and cost. For the same requirements, the Empower scalable 12V solution is capable of a 3x reduction in area and a 6x reduction in component count. The combination of the EP60XX 12V input high efficiency converters with the ultra high-density EP70XX completely integrated IVRs makes the Empower 12V solution simple to implement and scale with minimal engineering effort.
Benefits of the Empower 12V Scalable Solution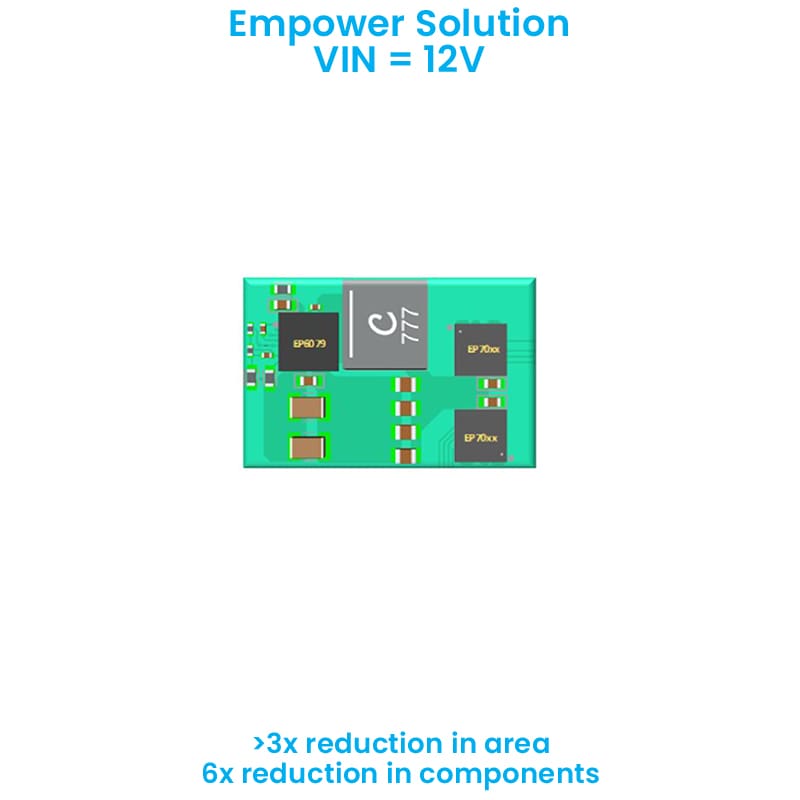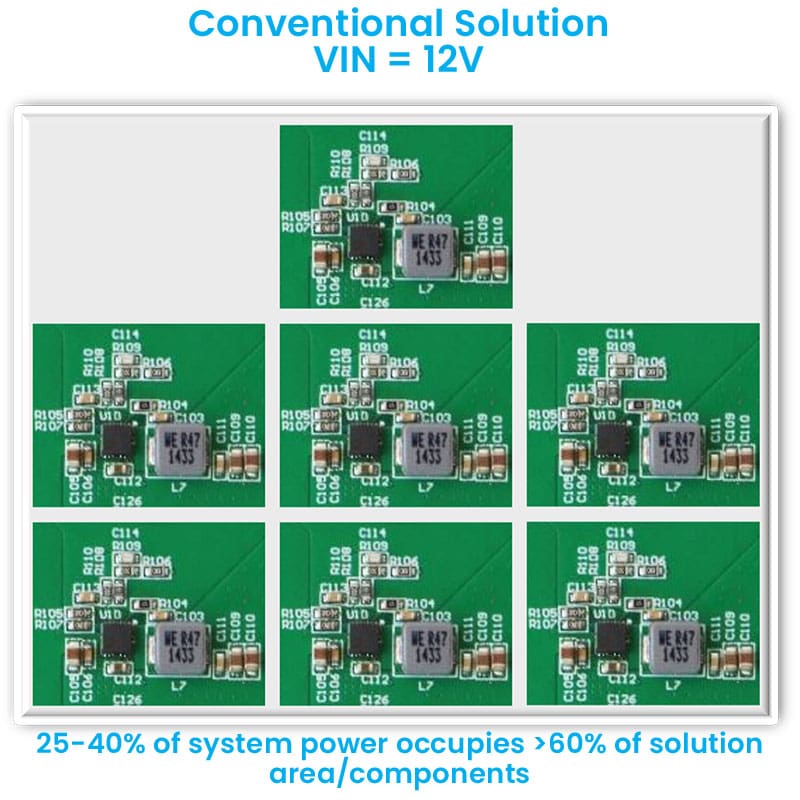 12V -> 0.5-1.8V, 0.5-10A
7 rails
Empower's Scalable 12V Solution for up to 30W
| Option | Output Power | 1.8V Output | Variable Outputs |
| --- | --- | --- | --- |
| 1 | Up to 20W | EP6070 | 1-3x EP70xx |
| 2 | Up to 30W | EP6069 | 1-3x EP70xx |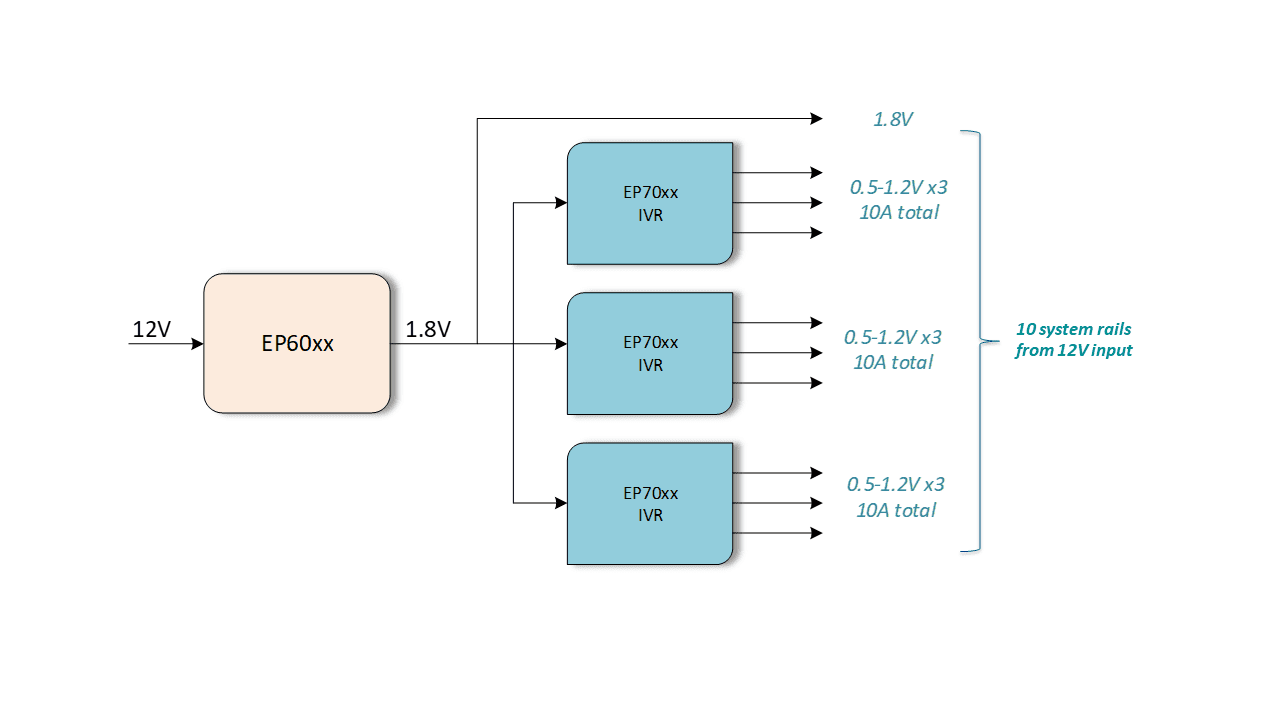 Traditional solution vs IVR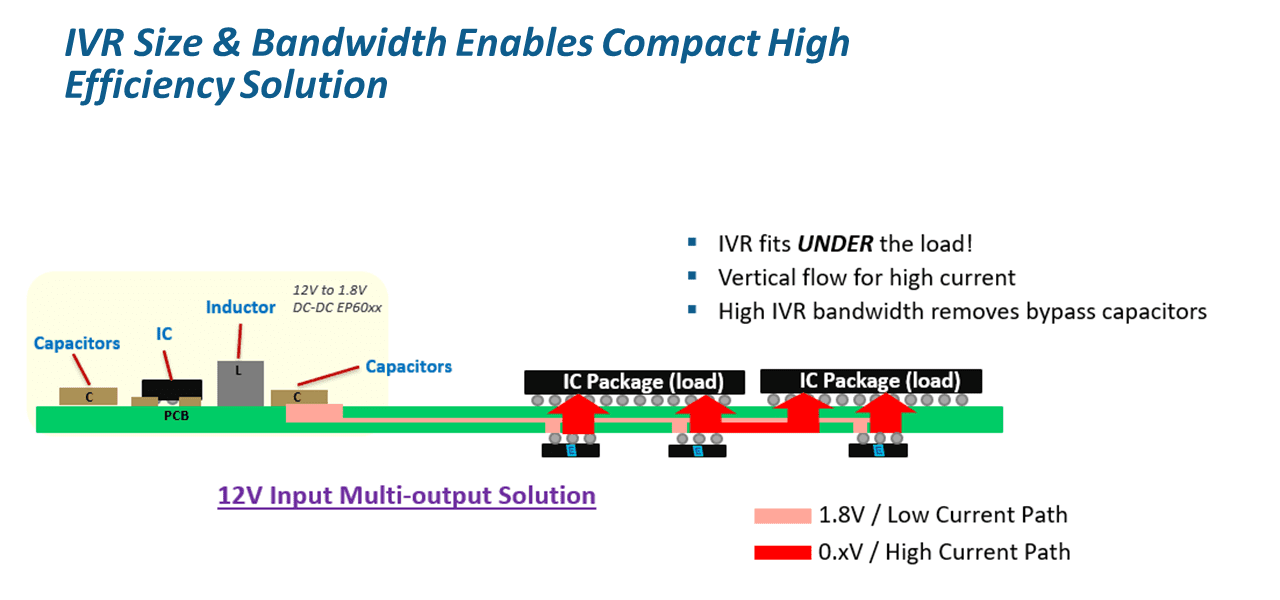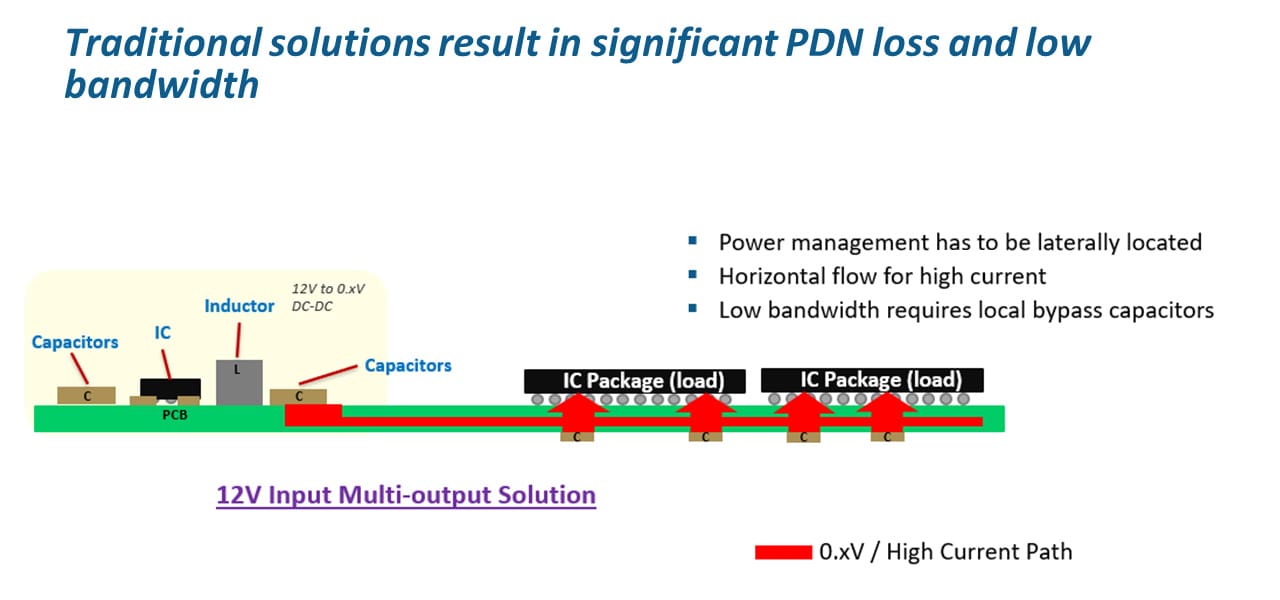 Application Circuit for Empower's Scalable 12V Solution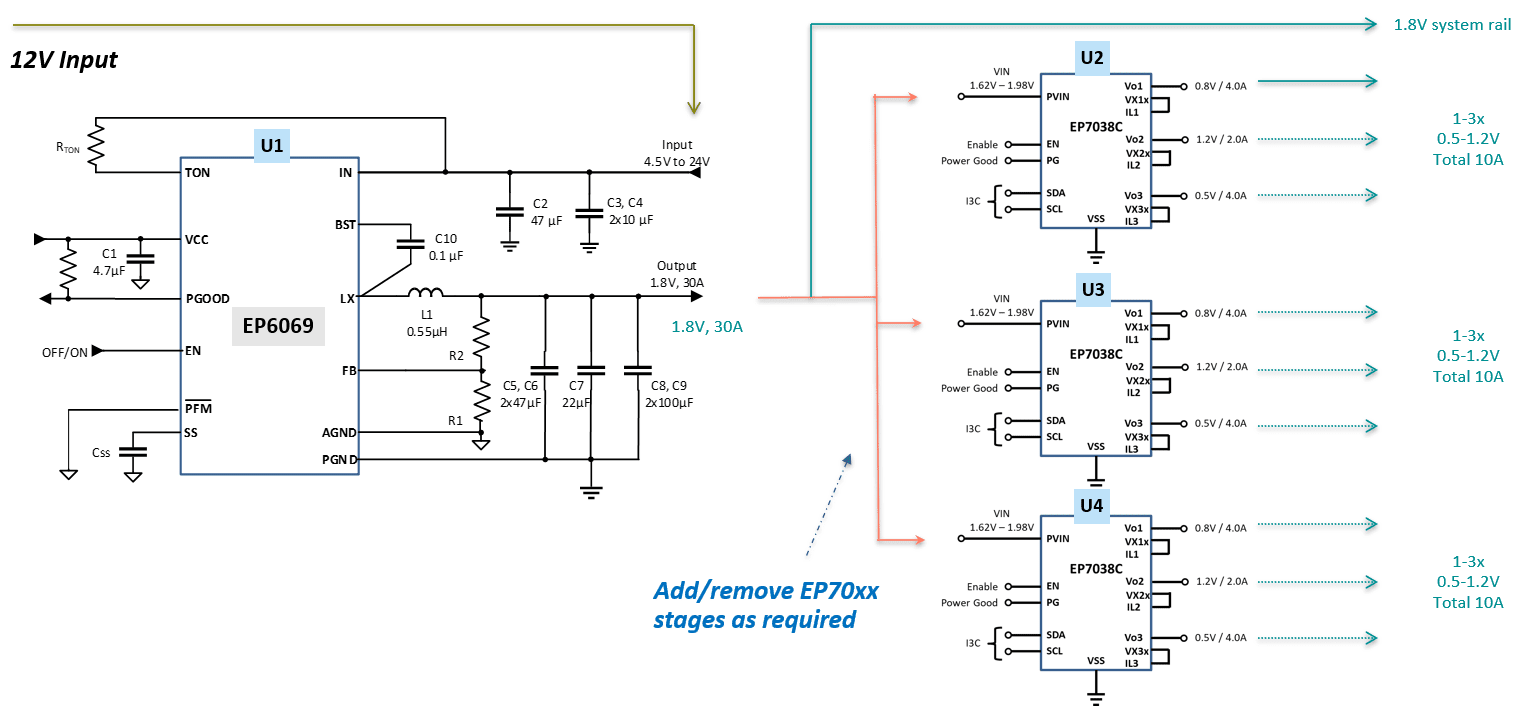 20 Component BOM can deliver 10 rails from 12V (up to 30W output)
| # | Part Description | Part Type | Part # / Value | Qty |
| --- | --- | --- | --- | --- |
| U1 | 12V to 1.8V Fixed Output Converter IC | IC | EP6069 | 1 |
| C2 | 12V input de-coupling capacitor | Capacitor | 47uF, 1210, 25V | 1 |
| C3 | 12V input de-coupling capacitor | Capacitor | 10uF, 0603, 25V | 1 |
| C4 | 12V input de-coupling capacitor | Capacitor | 10uF, 1210, 16V | 1 |
| C1 | VCC input de-coupling capacitor | Capacitor | 4.7uF, 0603, 6.3V | 1 |
| C7 | 1.8V Fixed output capacitor | Capacitor | 22uF, 0805, 6.3V | 1 |
| C5, C6 | 1.8V Fixed output capacitor | Capacitor | 47uF, 0805, 6.3V | 2 |
| C8, C9 | 1.8V Fixed output capacitor | Capacitor | 100uF, 0805, 6.3V | 2 |
| L1 | 12V to 1.8V converter's inductor | Inductor | 0.55uH, XAL7070-551MEC | 1 |
| C10 | BST pin de-coupling capacitor | Capacitor | 0.1uF, 16V, 0603 | 1 |
| Css | SS pin de-coupling capacitor | Capacitor | 10nF, 50V, 0402 | 1 |
| R1, R2, R3, RTON | Resistors | Resistor | Misc | 4 |
| U2 | Triple Output PoL IVR (0.5-1.2V/10A) | IC | EP70xx | 1 |
| U3 | Triple Output PoL IVR (0.5-1.2V/10A) | IC | EP70xx | 1 |
| U4 | Triple Output PoL IVR (0.5-1.2V/10A) | IC | EP70xx | 1 |
12V Solution Reference Design
| Part # | Description | Input Voltage | Iout (A) | Vout Min (V) | Vout Max (V) | Package | Size | Thickness |
| --- | --- | --- | --- | --- | --- | --- | --- | --- |
| EP6069 | Single Output 1.8V / 30A DC-DC | 4.5V – 24V | 30 | 0.6 | 0.85 x VIN | QFN | 5.0 x 5.0 | 0.9 |
| EP6070 | Single Output 1.8V / 15A DC-DC | 6.5V – 28V | 15 | 0.6 | 0.85 x VIN | QFN | 4.0 x 4.0 | 0.9 |
12V Solution Design Resources