EP7038C
Triple Output 10A Packaged IVR
Introducing the World's Smallest & Fastest Voltage Regulator
The EP7038 is a high-performance highly Integrated Voltage Regulator (IVR) with three outputs totalling 10A that enables the full integration of multiple voltage rails all in one IC, eliminating all external components.  Operating from a 1.8V input supply, the EP7038 enables performance 2-stage conversion with best density, efficiency, transient performance, ripple and dynamic voltage scaling (DVS).
Output Info
The three outputs are capable of 4A, 2A and 4A respectively with flat efficiency curves and ultra-wide bandwidth.
Programmability
The EP7028 offers extensive programmability through its 28MHz I3C port, requiring no external discrete components.  Highly accurate telemetry, diagnostics and protection are included.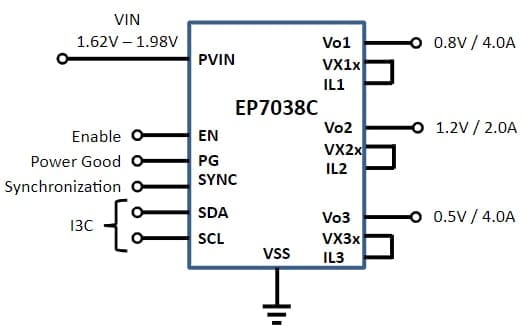 Three step-down IVRs: 4A, 2A, 4A
Programmable Vout: 0.4V to 1.3V
Set point accuracy: ± 1.0% over PVT
Ultra-fast transient response
Ultra-Fast DVS: 12 mV/ns
Very accurate and fast telemetry
Programmable start-up & sequence
28MHz I3C
Temperature range: -40˚C to 125˚C

No discrete inductors or caps required
Industry's smallest 2.5V – 5.5V Vin solution
Thin profile (750um)
Low output voltage ripple
Very high efficiency
Reduced SoC voltage guard-band

Server & Storage
Vision & Graphics Processors
Networking & Communication
SERDES transceiver SoCs
Performance Consumer SoCs
Memory controller ASICs
Package: 5mm x 5mm 75L FcCSP