The Highest Performance, Smallest Size, and Most Configurable Capacitor Technology Platform Ever!
The New Silicon Capacitor Revolution
Empowers E-CAP™ is a Revolutionary New Entry in the Capacitor Industry
E-CAP™ is a vastly superior performing capacitor, far exceeding the semiconductor industry's previously leading Multi-Layer Ceramic Capacitors (MLCC).
E-CAP™ technology features superior stability with no DC or AC bias de-rating, no temperature de-rating, and no significant effects of aging.  Combined with the ultra-low ESL (15pH), E-CAP™ provides a highly simplified and reliable solution to the system designer.  This highly differentiated high-performance technology is available in configurations up to 8.4µF.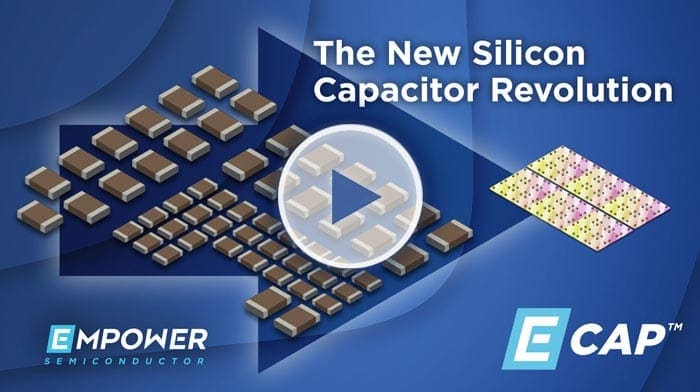 | Part Number | Description | # of Capacitors | Capacitance | Operating Voltage | Package Type | Package Size (L x W) [mm] | Package Thickness [mm] | Download | Inquire/Buy |
| --- | --- | --- | --- | --- | --- | --- | --- | --- | --- |
| EC1001P | Ultra-low profile 220nF Silicon Capacitor | 1 | 220nF | 4.0V | CSP | 1.0 x 0.5 (0402/1005m) | 0.15 | | |
| EC1100P | Ultra-low profile 670nF Silicon Capacitor Array | 5 | 110nF x 3, 145nF and 200nF | 4.0V | CSP | 2.5 x 0.6 | 0.15 | | |