Industry's highest performance and most compact capacitor technology enables new levels of power and signal integrity
The New Silicon Capacitor Revolution
Empower high-density E-CAP™ technology integrates into a monolithic device multiple discrete capacitances.
Compared to the ubiquitous multilayer ceramic capacitors (MLCC), E-CAP offers vastly improved electrical and mechanical performance:
5x greater density
No AC/DC, temperature or aging derating
Ultra-low 15pH ESL

Ultra-wide bandwidth

50μm or lower thickness capable
No audible noise susceptibility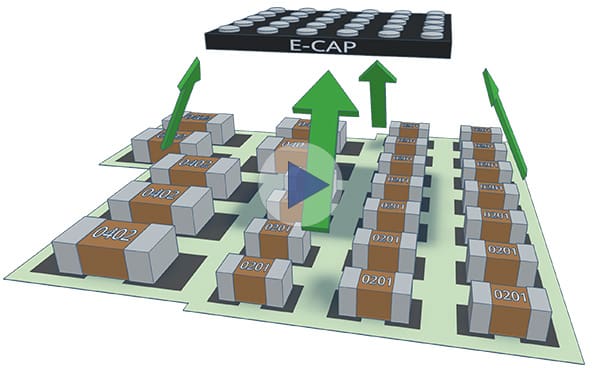 The superior E-CAP stability allows to reduce the nominal capacitance needed to guarantee the effective capacitance required by the system. And with their compact form, thinness and improved electrical performance, E-CAP products are perfectly suited for high-frequency/high-speed data intensive power-hungry applications where power and signal integrity is critical.
Standard products
Empower offers standard E-CAP products adequate for a wide variety of applications. The product selector table below lists our current product selection.
Custom products
Empower E-Cap technology can be customized to various form factors and package options to fit specific applications and performance levels. In most cases, samples are available in less than 4 months. Contact us using the form below for an initial assessment of your project.
| Part Number | Description | # of Capacitors | Capacitance | Operating Voltage | Package Type | Package Size (L x W) [mm] | Package Thickness [μm] | Download | Inquire/Buy |
| --- | --- | --- | --- | --- | --- | --- | --- | --- | --- |
| EC1001P | Ultra-low profile 200nF Silicon Capacitor | 1 | 200nF | 4.0V | CSP | 1.0 x 0.5 (0402/1005m) | 150 | | |
| EC1002P | Ultra-low profile 215nF Silicon Capacitor | 1 | 215nF | 4.0V | CSP | 1.0 x 0.5 (0402/1005m) | 150 | | |
| EC1100P | Ultra-low profile 670nF Silicon Capacitor Array | 5 | 110nF x 3, 145nF and 200nF | 4.0V | CSP | 2.5 x 0.6 | 150 | | |
| EC2047B | Ultra-low profile 4,800nF Silicon Capacitor Array | 17 | 1x 600nF, 11x 200nF, 5x 400nF | 2.0V | CSP | 2.3 x 1.9 | 200 | | |