EP7010B

Single Output Integrated Voltage Regulator on Interposer
Introducing the World's Smallest & Fastest Voltage Regulator
The EP7010 is a high-performance highly Integrated Voltage Regulator (IVR) with an output of 10A that enables the full integration or elimination of all external components.  Operating from a 1.8V input supply, the EP7010 offers the industry best density, efficiency, transient performance and dynamic voltage scaling (DVS) from any system input voltage.
Output Info
The output is capable of 0.5V to 1.2V at 10A to provide flat efficiency curves and ultra-wide bandwidth.
Programmability
The EP7010 offers extensive independent programmability with no external discrete components required.  Highly accurate telemetry, diagnostics, warnings and protection as well as operating parameters such as output voltage, soft-start time and sequencing, DVS ramp speed, and phase shedding are all programmable via the I3C interface. The EP7010 reduces PCB power management area and components by 10x or more, reduces system power loss by 10-50%, and reduces power routing complexity on the PCB.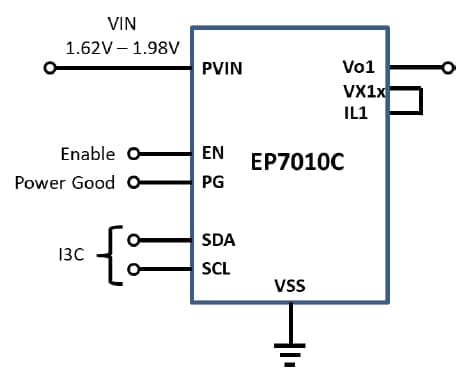 Step-down Integrated Voltage Regulator (IVR): 10A
Industry's highest current density: 0.125A / mm2
Programmable power-up sequencing
28MHz I3C interface (compatible to I2C) to coordinate sequencing, telemetry and diagnostics with system and SoC
Programmable output voltage: 5V to 1.2V
Output voltage set point accuracy: ±0% over PVT
Programmable fast DVS: up to 6 mV/ns
Programmable auto-phase shedding
Accurate current (± 10%), voltage (± 2%), and temperature reporting (± 4°C)

No discrete inductors or capacitors required
Ultra-fast transient response with no output caps
High efficiency and wide bandwidth
Extensive fault protection, programming and warning: OVLO, UVLO, OVP, OCP, short-circuit
Adjustable, fast soft-start with low in-rush current

Server POL
Optical transceiver SoCs & Modules
Client/Enterprise/Data Center SSD & NAS
Networking & Communication SoCs
Artificial Intelligence (AI) Processors