EP7015C

Single Output 5A Packaged IVR
Introducing the World's Smallest & Fastest Voltage Regulator
The EP7015 is a high-performance highly Integrated Voltage Regulator (IVR) with a single output capable of 5A that enables the full integration of all external components in one IC.  Operating from a 1.8V input supply, the EP7015 enables performance 2-stage conversion with best density, efficiency, transient performance, ripple and dynamic voltage scaling (DVS). 
Output Info
The 5A output demonstrates a flat efficiency curve with ultra-wide bandwidth.
Programmability
The EP7015 offers extensive programmability through its 28MHz I3C port, requiring no external discrete components.  Highly accurate telemetry, diagnostics and protection are included.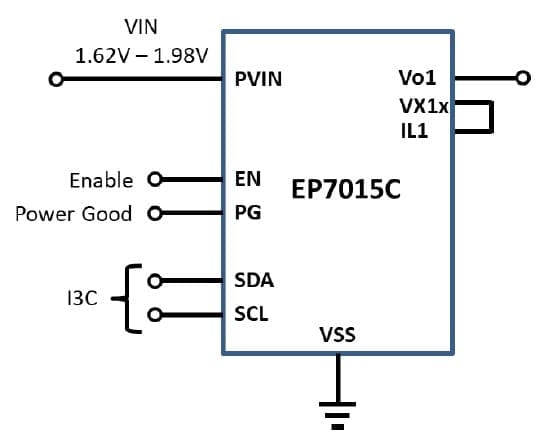 Single

step-down IVRs: 5

A

Programmable Vout:  0.5V to 1.2V

Set point accuracy: ± 1.0% over PVT

Ultra-fast transient response

Ultra-Fast DVS:  12 mV/ns

Very accurate and fast telemetry

Programmable start-up & sequence

28MHz I3C

Temperature range: -40˚C to 125˚C

No discrete inductors or caps required

Thin profile (750um)

Low output voltage ripple

Very high efficiency

Reduced SoC voltage guard-band

Server & Storage


Vision & Graphics Processors

Networking & Communication

Optical transceiver

Performance Consumer SoCs

Memory controller ASICs

LDO replacements
Package: 5mm x 5mm 75L FcCSP