Milpitas, Calif., February 8th, 2021 — Empower Semiconductor, the world leader in Integrated Voltage Regulators (IVR), today announced it is increasing production of its E-CAP silicon capacitor technology. E-CAP is a vastly superior performing capacitor, far exceeding the semiconductor industry's previously leading Multi-Layer Ceramic Capacitors (MLCC), which is amidst another significant supply chain shortage. The MLCC market was estimated at $8.4B in 2018.
MLCC's are space limiting, inefficient, unreliable, and low performing when compared to E-CAP. Empower Semiconductor has made the most significant advancement for capacitors in decades as E-CAP enables new possibilities for today's applications due to the incredible size reduction, performance increase, and improved reliability. MLCC's are also prone to material shortages and pricing volatility as witnessed most recently. The E-CAP silicon capacitor product platform can alleviate supply shortages with the added performance and reliability benefits.
"Since we launched E-CAP in late 2020 there has been unprecedented demand for our technology by industry leaders in mobile and data center products. More recently we have received increased demand due to the supply shortage of MLCC products" said Steve Shultis, Senior Vice President WW Sales and Marketing at Empower Semiconductor. "We knew our performance was winning and the added benefit of our supply chain has created a tremendous surge in demand for E-CAP."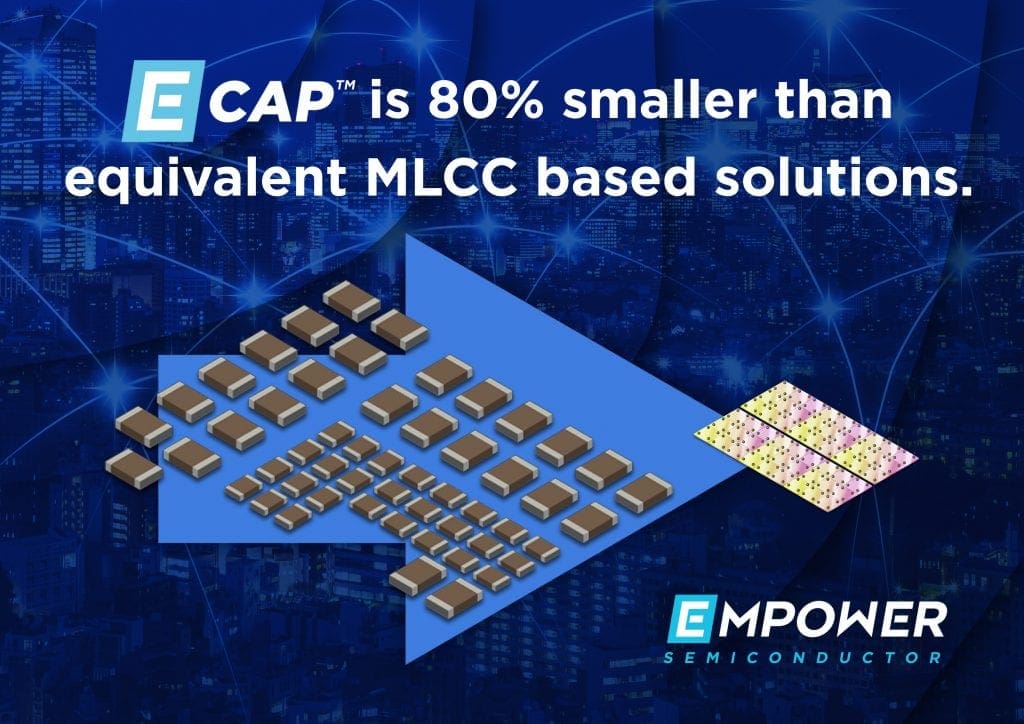 E-CAP can be an ideal replacement of MLCC products as a power supply bypass capacitor in low voltage DC/DC voltage regulators and in-package for SoC's and Processors. Empower Semiconductor's silicon capacitor technology features superior stability with no DC or AC bias de-rating, no temperature de-rating, and no significant effects of aging. Combined with the ultra-low ESL (<15pH), E-CAP provides a highly simplified and reliable solution to the system designer. This highly differentiated high-performance technology is available in configurations up to 8.4µF for operating voltages under 5V. Height limited applications are addressed with the capability of less than 100µm in thickness. This tiny die format allows for footprints that are 80% smaller than equivalent MLCC based solutions.
E-CAP is currently offered in two standard products with additional configurations coming soon. The EC1001 is a 220nF low ESR/ESL silicon capacitor in an 0402 package. It can be used as a replacement for common MLCC values of 0.1µF/0.22µF/0.47µF. The EC1100 is a 620nF silicon capacitor array (2.5 x 0.6mm) comprising 5 capacitors that can be combined or used individually. Both products are available as 150mm thickness in Tape & Reel.
Empower's EP70XX IVR family, which is known for its superior performance and unmatched power density, was the first application for E-CAP. Empower has mastered the expertise of leveraging the superior characteristics of the technology to provide its size benefits to a variety of implementations such as die, package, and PCB substrates. The performance benefits allow higher power efficiency to be achieved due to the superior voltage filtering for better SoC/CPU voltage accuracy during load transients.
E-CAP opens up demanding new applications in IoT, wearables, mobile, and processors where size, performance, and flexibility are essential.
Availability: E-CAP product range and details are available at https://www.empowersemi.com/ecap-new-capacitor-silicon-revolution/
About Empower Semiconductor
The exponential increase in the amount of data being communicated and processed around the globe is driving the energy consumption of datacenters and communications networks to 17% of total electricity demand worldwide by 2030(1), dramatically increasing pollution, carbon emissions and cost. Empower Semiconductor was founded with the mission to "minimize the energy footprint of the digital economy" by developing novel fully integrated power management solutions that both increase the performance and reduce power consumption of energy-hungry, data-intensive applications.
Traditional power solutions require dozens of discrete components with big footprints, complex designs and deliver power inefficiently with poor response times and inaccuracies. Empower Semiconductor's patented IVR technology integrates dozens of components into a single IC increasing efficiency, shrinking footprints by 10x and delivering power with unprecedented simplicity, speed & accuracy and with zero discrete components. The Empower IVR™ technology solves the power density challenge to address a wide range of applications including mobile, wearables, 5G, AI, and data centers. In 2020 the capacitor technology platform was added to further address power density. E-CAP revolutionized the capacitor industry as the world's smallest, highest performing, and incredibly reliable capacitor for wearables, mobile, and SoC applications. The company is based in Milpitas, CA and is led by a team of highly experienced power experts and executives.
Nature, "How to stop data centres from gobbling up the world's electricity", September 12, 2018
Empower Semiconductor and the Empower logo are trademarks or registered trademarks of Empower Semiconductor, Inc. All other brands, product names and marks are or may be trademarks or registered trademarks used to identify products or services of their respective owners.